Powerful Retroactive Funnel Reports Specifically Designed
to Identify Pain Points for Visitor Conversions

Generate Conversion Funnels On-the-Fly
Using your Existing Google Analytics Data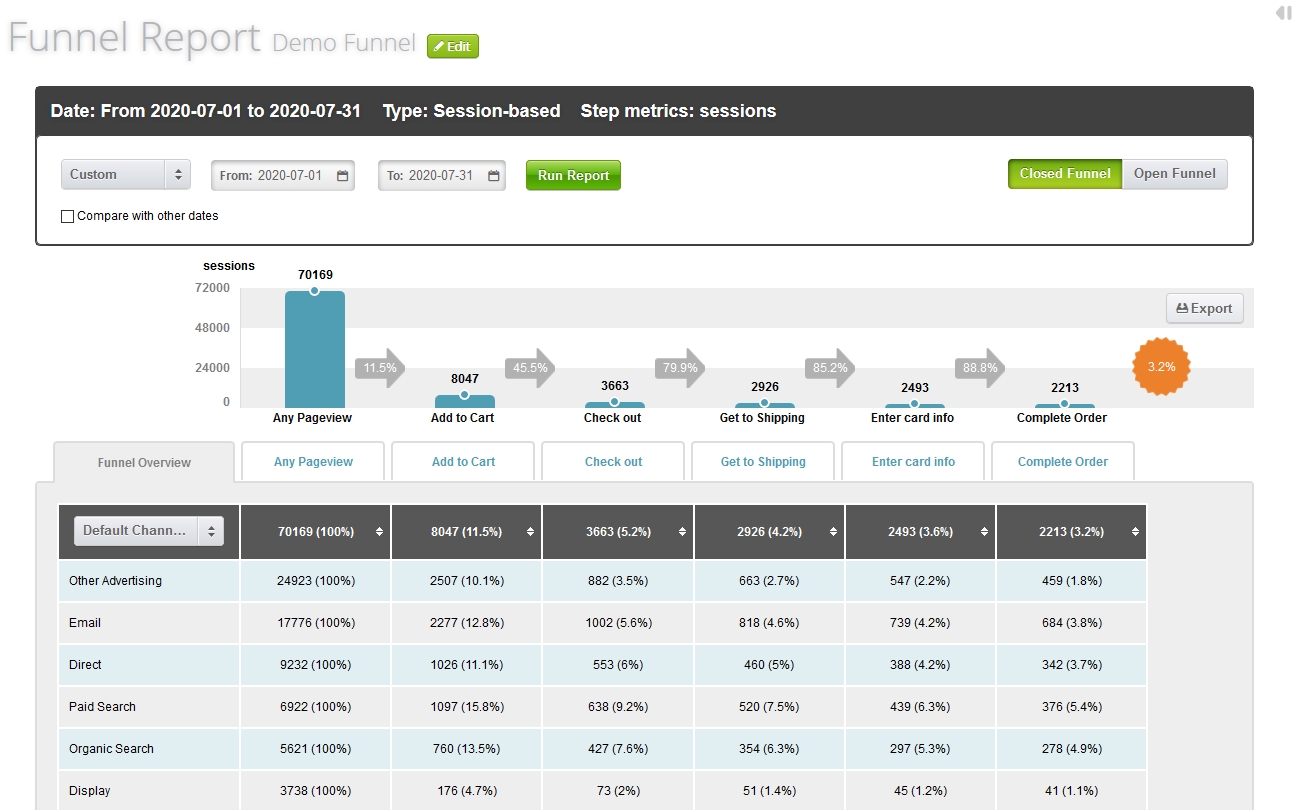 Use Your Existing Google Analytics Data
No need to reconcile data discrepancies between GA data and data from other tools. SkyGlue uses your existing GA data to build funnels and reports.

Support Cross-domain Funnels
If the visitors converted on your site are from other websites, you can track their web journey across these domains. SkyGlue funnel supports cross-domain tracking or cross-subdomain tracking.
Create funnels on-the-fly! Retroactive funnels use existing GA data. No need to wait for data collection after a funnel is created. You have the freedom to update funnels easily for your investigation.

SkyGlue Funnels Compared with Google Analytics Funnels

Standard free Google Analytics allows you to define "goals" and create basic funnels using the "funnel visualization" or the "goal flow" reports. But they are not retroactive. You need to define goals first and wait for data collection. The funnel configuration options are limited.

Google Analytics 360 has custom funnel reports. It allows you to create retroactive funnels and provide more configuration options. But it is expensive (starts at $150,000/year).

Neither standard Google Analytics nor Google Analytics 360 allows you to drill down on individual visitors to understand why they dropped from the funnel and how to improve the conversion rate.

| Features | GA Standard (Goals) | GA 360 Funnel | SkyGlue Funnel |
| --- | --- | --- | --- |
| Funnel Scope | Session only | Session or User | Session or User |
| Funnel Steps | One URL Only | URLs, Events and many options | URLs, Events and many options |
| Retroactive (use historical data) | | | |
| Advanced Funnel Configuration | | | |
| Identify missing conversion paths in funnel setup | | | |
| Break down conversion rate on various dimensions | | | |
| Slice and dice converted or dropped visitor in each step | | | |
| Zoom in on individual visitors to understand WHY | | | |
| Price | Free | Expensive | Free or low cost |
Step 1: Funnel Setup: Simple and Flexible
Option 1: Standard Funnel Setup Interface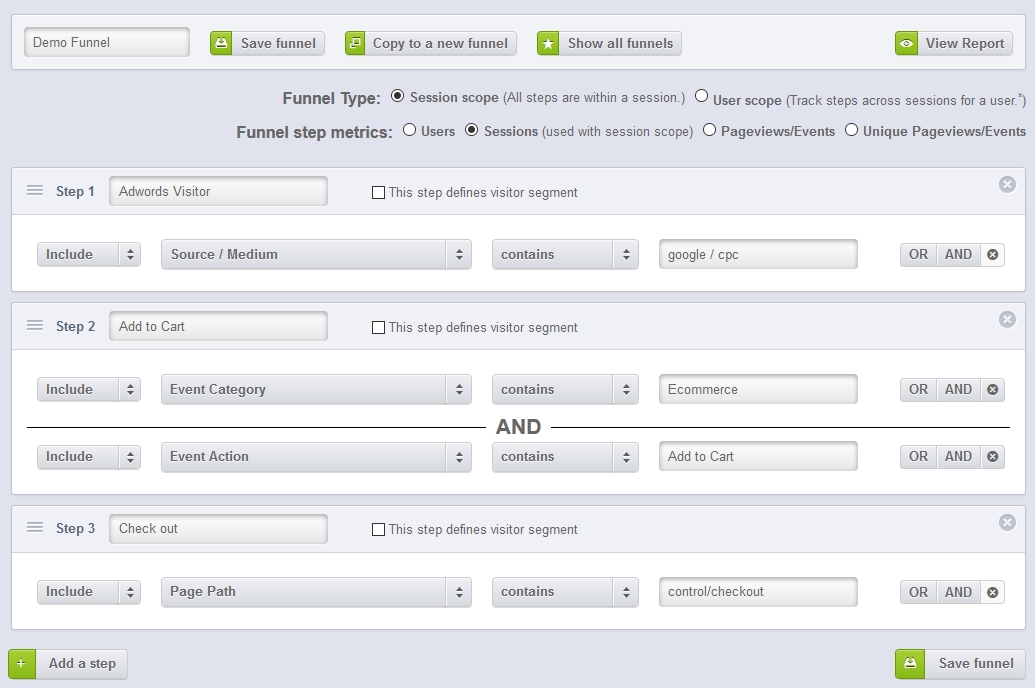 You can set up funnel steps easily using pageviews, events or any of the Google Analytics dimensions. Funnel can be on either user scope or session scope. You can also set funnel step metrics as users, sessions, pageviews/events or unique pageviews/events.
Option 2: Create Funnel Steps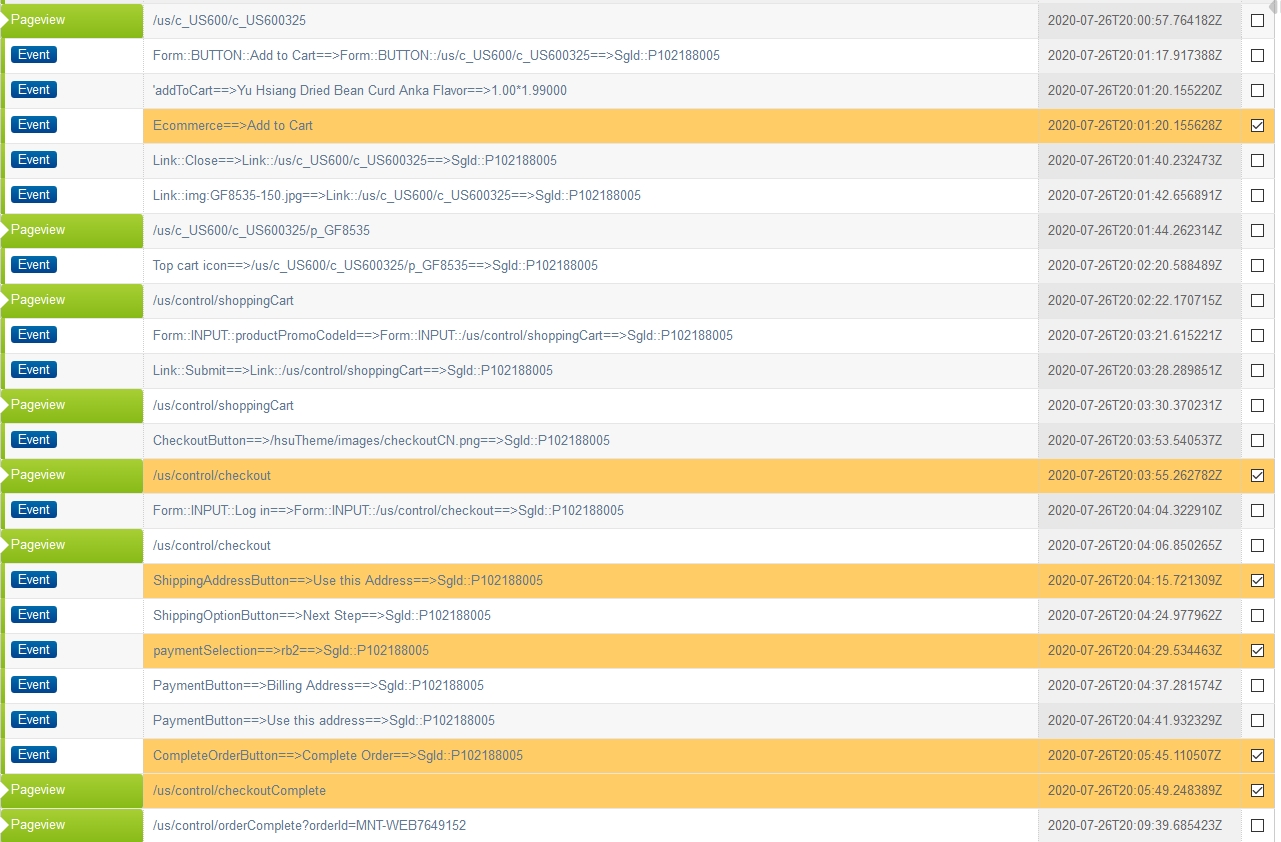 You can find an individual visitor who achieved your goal (e.g. made a purchase) on your SkyGlue visitor report, then select the key steps that you want to include in the funnel and click the "Create Funnel with Selected Step" button. A new funnel will be created automatically using the steps you selected.
Step 2: Get Insight from Your Funnels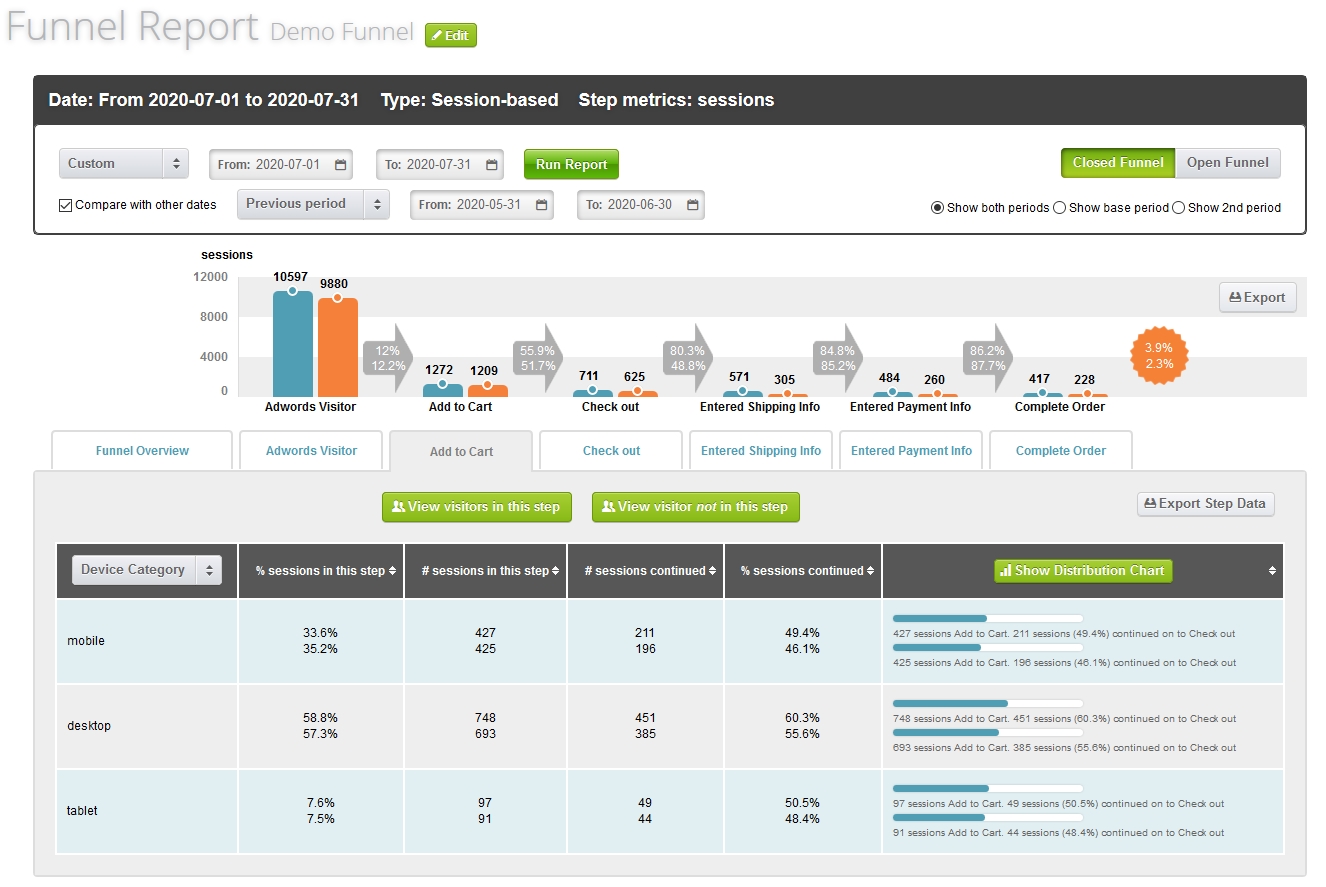 Build funnel for a segment of visitors so that you can conduct focused conversion analysis on a particular campaign or a particular geographic location.

Support Both Closed Funnels and Open Funnels
Users may not follow the conversion path(s) you expected. Closed funnel shows visitors on your expected conversion path(s). Open funnel shows visitors who did not follow your expected conversion path(s). Compare open funnels and closed funnels to validate your funnel setup so that you can make accurate decisions based on all possible conversion paths.

Compare Conversion Funnels from Different Time Periods Side-By-Side
Easily compare conversion funnels and conversion rates from different time periods to understand if your conversion rate is improving over time.
Compare Conversion Rates on Different Dimensions
Easily compare conversion rates on different Google Analytics dimensions so you are not only
getting an overall funnel, but also a conversion rate for each dimension value,
such as the conversion rate on each step for each campaigns.
Conversion Rates Distribution Chart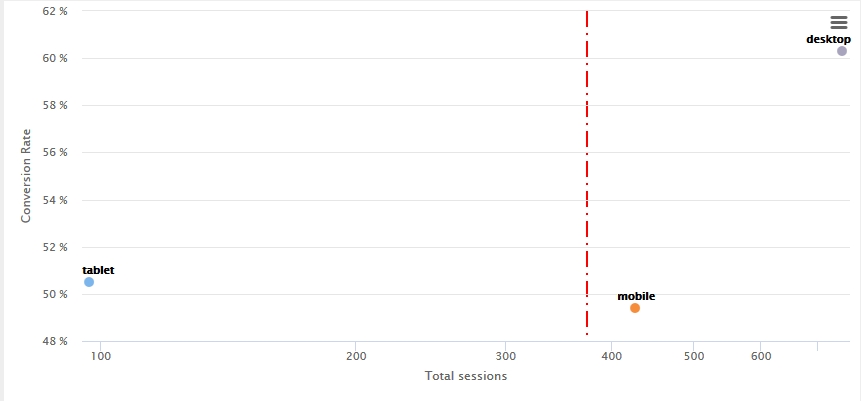 The conversion rate distribution chart shows conversion rates on different dimensions, such as browser types, campaigns, geolocations, etc. This helps you to identify potential areas for improvement, such as which campaigns have high conversion rate but less visitors so that you can invest more in those campaigns.
All data in funnel reports can be exported to Excel which allows for more customized analysis.

Step 3: Easily drill down and find out WHY
Understand why visitors converted or dropped from a funnel step by examining detailed activities for each individual visitor. This method does the magic of finding the conversion pain-point for visitors so you can improve the conversion rate.
Get Your  User List from Funnels with a Simple Click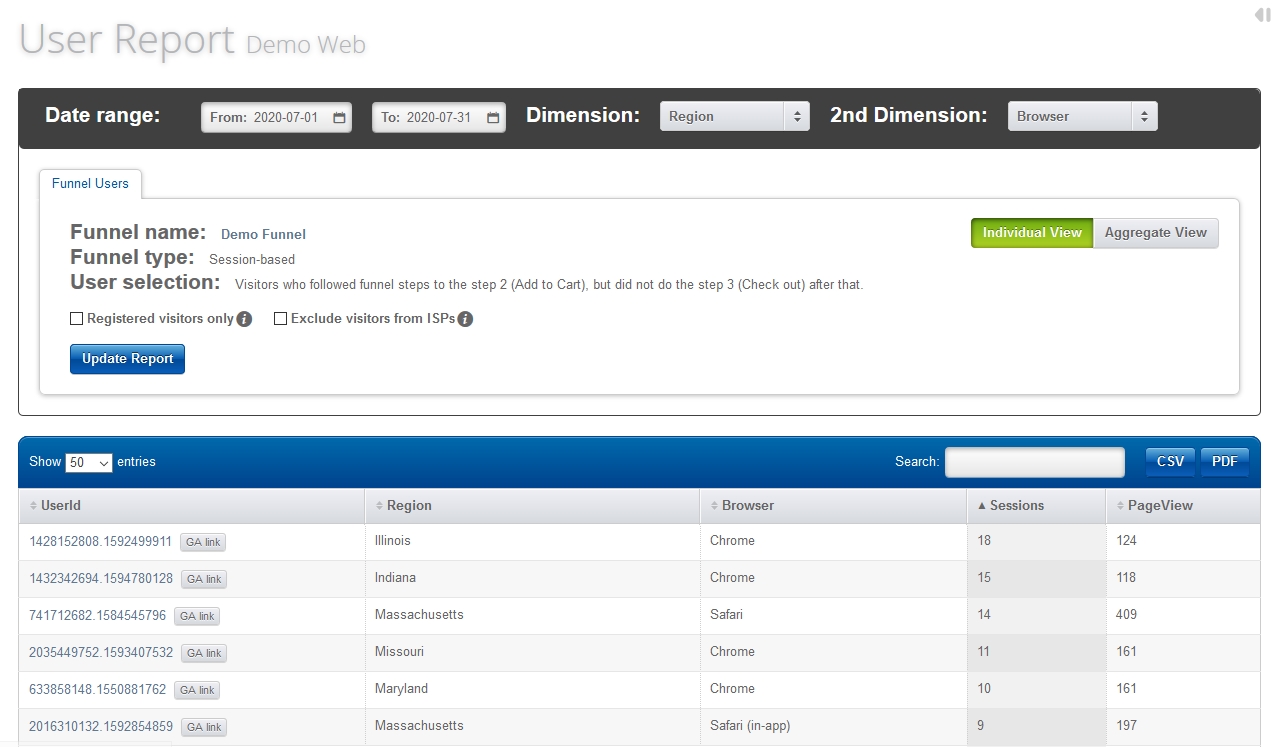 With a simple click on the funnel report, you can retrieve a list of visitors who converted in a step, did not converted in a step, or converted in a step, but did not go through the previous steps. You can click on each individual visitor to get the individual reports.

Zoom in on Individual Visitors
You will have the option to add additional attributes (Google analytics dimensions) to get more information about each individual visitor. You can also filter registered users only or exclude visitors from ISPs. In addition, you can see metrics such as sessions and pageviews. These additional attributes, metrics and filters help you to identify which individual visitor to select to investigate further.

Individual Report: Everything about a Visitor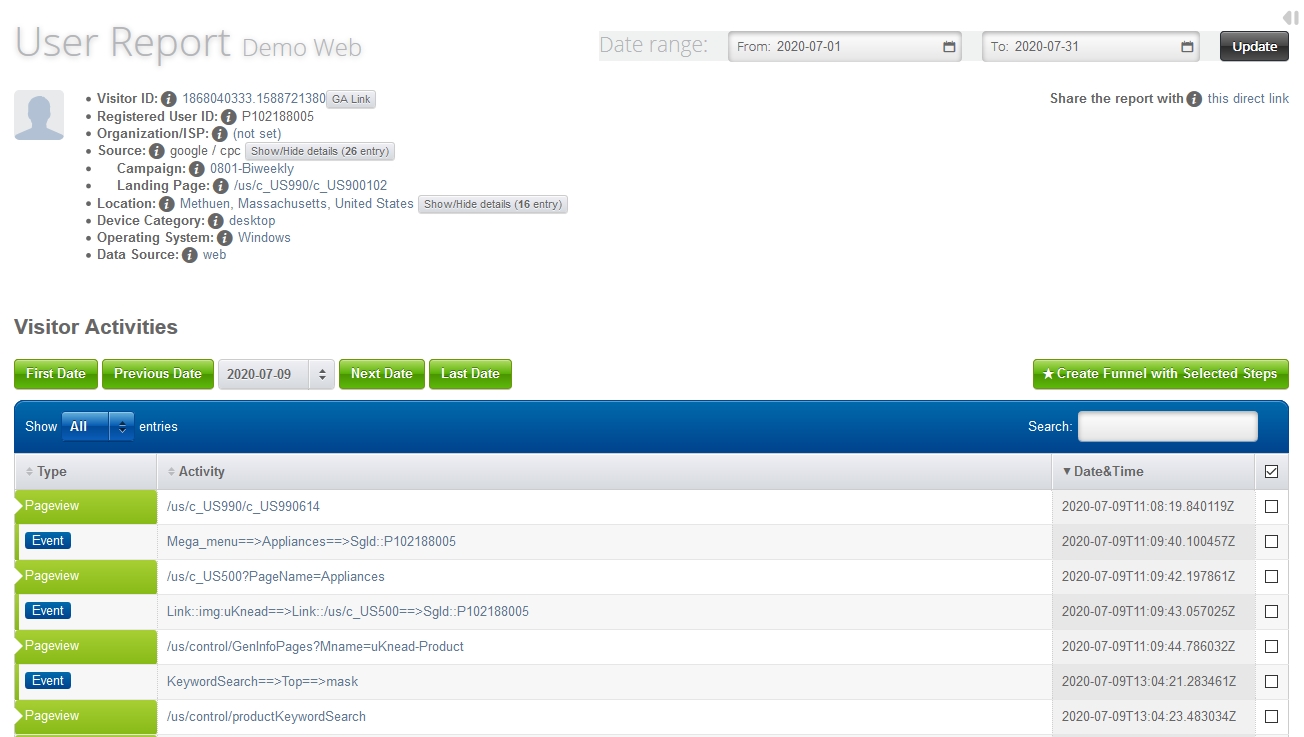 The individual activity report shows what a visitor did on your website and on each page. It also shows how a visitor came to the website, his/her geolocation and device information.

Easily Switch between Aggregated View and Individual View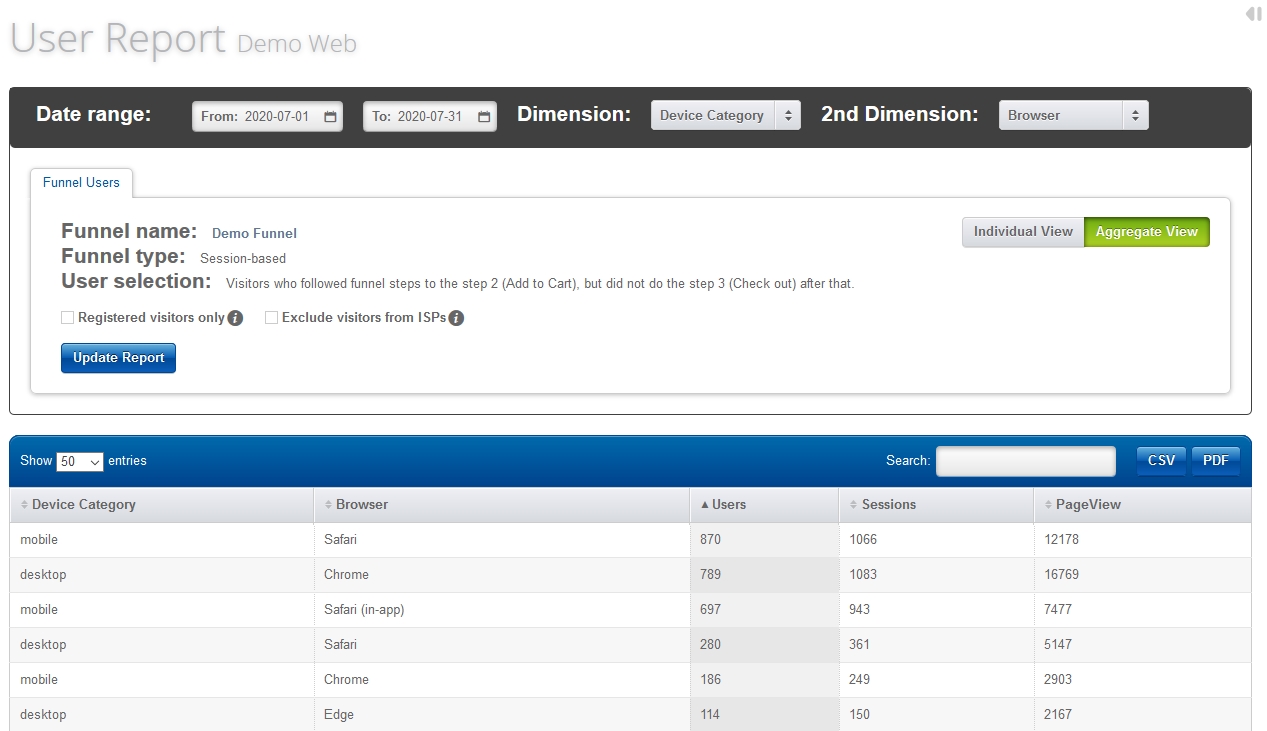 Lost in too many individuals? Easily switch to the aggregate view
to get the big picture.

Direct connection to Google Analytics Report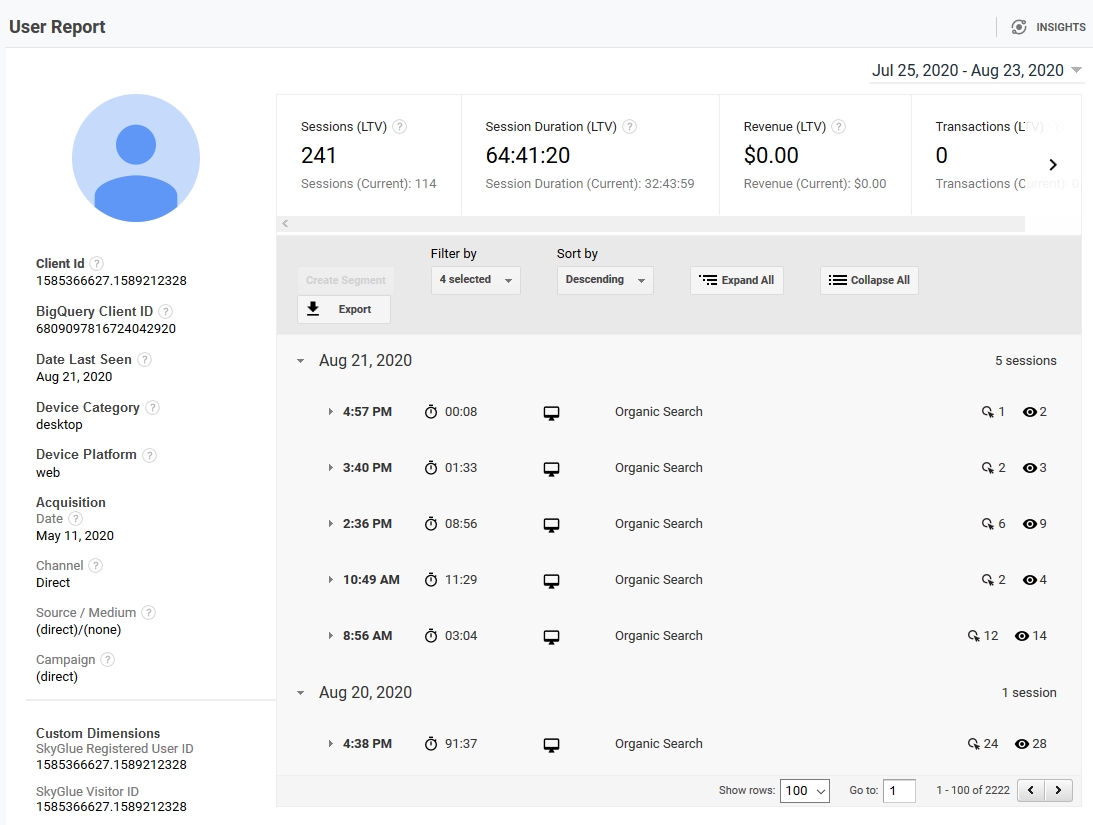 Check on the individual user explorer report in Google Analytics by clicking on the "GA link" button next to each individual visitor.

A Proven Solution Used By Hundreds of Companies for Years







"Google does a great job with analytics, but SkyGlue takes what Google already created and gives you in-depth, accurate and actionable data that will help you make data driven decisions. SkyGlue as a partner has been a great experience as well, as a whole they are friendly and extremely helpful and always there when you need to jump on a call. If you're looking for a way to track users paths and make your site better for the end user and optimize performance, we definitely recommend SkyGlue."
"We were looking for an easy way of analyzing our sales funnels with our Google Analytics data.  SkyGlue's funnel report made doing this incredibly easy and saves our team several hours of painstaking work every month."
"SkyGlue's robust event and visitor tracking has enabled us to easily to identify and track key actions on our clients' websites and augment our Google Analytics tracking. In doing so it has allowed us to establish high-level engagement benchmarks, user funnels, and sales funnels that have greatly impacted our clients' business and driven increased performance from our campaigns and revenue. I would heavily recommend SkyGlue to anyone looking to enhance their website analytics capabilities."
"I have been dealing with the Skyglue Add-on for the past 3 years and I have been able to make sound and accurate marketing decisions based on the value the tool provides. They support what they sell personally which is not the case with most software companies. I really enjoy working with them as they always have a great idea for us to try."